Paul Plumeri
The Bishop Of The Blues
Blue Notes: Chronicling the Blues from Polk County to Trenton
The Trenton City Museum at Ellarslie Mansion, Trenton, NJ
October 2004 through January 2005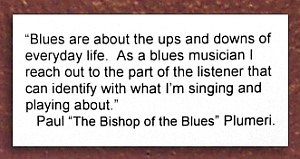 Paul with blues legend B.B. King

Newspaper coverage of the famed Allman Brothers / Hoochie Cooch
concert at the Trenton Speedway in 1973.

Concert Posters from the 1970's


Duke Williams and The Exrtremes promotional pics.

Hoochie Cooch in concert.

A Great Day in Trenton
An historic assemblage of Trenton's finest
musicians on the steps of the Ellarslie Mansion.
< BACK
---
HOME l BIO l SHOWS l MUSIC l PICS l LINKS l CONTACT
Copyright 2001 Paul Plumeri