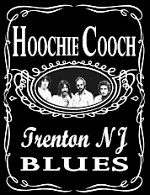 "Killing Floor" is an (early version) demo from a recording session Hoochie Cooch did in 1975 at a studio in Upper Darby, PA. Local concert promoters Hollow Moon Productions helped the band with recording costs in hopes of the band landing a contract with a major record label.
Around that time they were one of the East Coast area's hardest working blues bands playing to packed houses in nightclubs, as well as playing large concerts as the opening act to artists such as The Allman Brothers, Fleetwood Mac and the Chambers Brothers.
Paul and Joe once again share guitar duties, with Joe on vocals. Frank Skwara plays bass and Bob Marsley is on drums.
< LISTEN > in RealOne Player format
- OR -
< DOWNLOAD > Right Click and choose : Save Target As...
to a folder on your computer .